Masters of Education
It might not have made headlines, but a small contingent of Uzbekistan graduate students made academic history in September.
Indeed, when these students took their seats in their respective classrooms, they became the faces of the country's first crop of students set to receive a Master of Science in Geoinformatics degree. For the first time ever, masters students can now obtain this niche degree at three Uzbekistan universities: the Tashkent Institute of Irrigation and Melioration (TIIM), Tashkent's National University of Uzbekistan (NUU) and the Tashkent Architecture Building Institute (TABI). A fourth partner university, the Karakalpak State University (KSU) in Nukus, is developing a summer school program.
Funded through the European Union's TEMPUS program, which supports the modernization of higher education in non-EU countries through university cooperation projects, the two-year masters program will provide a comprehensive course of study, as well as the opportunity to experience a range of advanced geospatial technology and how such tools can be used to address the country's real-world issues.
"The entire geoinformatics masters program was designed around a needs analysis from university department heads and industry project partners who will potentially be major employers of these graduates," says professor Bela Markus, a TEMPUS project manager and head of the Land and GeoInformation Knowledge Center at the University of West Hungary. "These graduates will be able to offer the most up-to-date skills and knowledge of key spatial technology. We see big potential for them."
Pioneering Curriculum
A groundbreaking educational platform for Uzbekistan, the Master of Science in Geoinformatics course combines a traditional classroom structure with an online learning platform for all teachers and students to use. The eight-pronged core curriculum incorporates best practices in the areas of GIS, remote sensing, geospatial technology, data acquisition, spatial analysis, field work, geodatabase management and visualization.
Each university also established a new GIS computing lab to serve as a learning system extension for the masters students' research and field work.
Teacher training began in earnest in June 2013 and several targeted training sessions were conducted in Hungary, Tashkent and Salzburg with support from the European partners.
To supplement classroom teaching with hands-on learning of up-to-date geospatial tools, the project partners issued an RFP to equip all four partner universities with needed technology. In October 2013 they selected Trimble to supply geospatial/surveying equipment and initial training.
New Perspectives
In March 2014, Trimble delivered eight total stations, four GNSS rovers and base stations, several handheld GPS units, one laser scanner, eight automatic levels, eight laser distance measurement devices, and field and office software for the first two-week teacher training session in Tashkent.
Professors from the Royal Institute of Technology in Stockholm led the training, splitting their time between classroom instruction and hands-on field workshops. They began with the newest "toys:" the Trimble TX5 3D laser scanner and the Trimble R4 GNSS rover.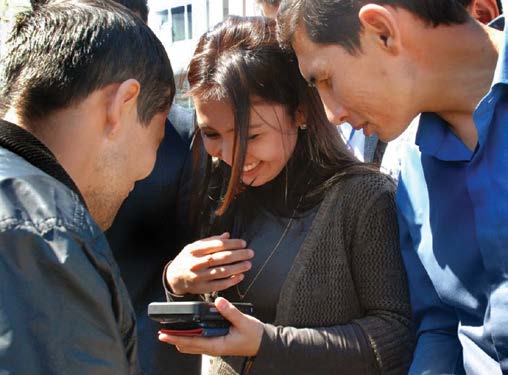 After learning the proper installation and setup procedures, the teachers were given the opportunity to scan the cafeteria building on TIIM's campus. Back in the GIS lab, they learned how to use Trimble RealWorks® software to process the image data into point clouds and how to understand, analyze and integrate the 3D information.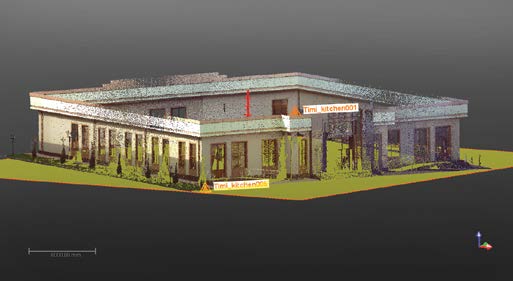 With the Trimble R4 GNSS receivers and Trimble Slate controllers, the hands-on training focused on surveying a range of features around the campus and using Trimble Business Center survey software to successfully post-process the data.
In addition to the laser scanning and GNSS exercises, the teachers were taken to a variety of locations to test and learn the features of the Trimble M3 total station and the Trimble DiNi digital levels. However, since the initial training session was relatively short, teachers will have continual opportunities to learn the new technology through additional training sessions and on their own time as the equipment will be housed in the GIS labs.The training included a field workshop with the Trimble M3 total station.
"The teachers were amazed by the 3D scanner and its ability to produce such powerful results so quickly," says Odil Akbarov, director of the Land Tenure Development Center at TIIM. "They could immediately see how the scanner technology and GNSS will benefit many infrastructure issues the country is facing."
Real-world Opportunities
Indeed, the geoinformatics masters program was specifically designed to match some of the core land, water, infrastructure and environment issues in Uzbekistan with a workforce who can help resolve these challenges.
For example, as a developing country Uzbekistan faces significant pressure from urban sprawl as its population continues to grow. Although efforts have been made to computerize land registration, the lack of skilled professionals in digital mapping and GIS has required this process to be done manually. MSc graduates can fill this gap and help bring automation to land management.
Along with urban sprawl there has been constant construction of homes, buildings, roads and bridges but there have not been adequate resources to plan, monitor and manage all of this development. Graduates can help provide the geospatial foundation needed to better prepare and execute needed development.
Due to excessive pressure on its land and water resources, Uzbekistan is struggling with the detrimental consequences of land degradation and water shortages. Masters graduates have the opportunity to use geospatial information and application techniques to help map soil erosion and salinity, plan irrigation networks for agriculture and water resource management.
With the graduates' laser scanning expertise, a long-standing  desire to survey, inventory and map all of Uzbekistan's many historical monuments may also become a reality.
Although it will be a few years before the partner universities can gauge the success of the masters degree, being able to witness the first-ever group of geoinformatics graduate students take their seats in September was its own triumph.