The Ministry of Mines and Geology, through the Centre for Mining Promotion and Development (CPDM), has announced to all its investors and other stakeholders in the mining sector, that the Mining Cadastre of the Republic of Guinea is now accessible online at guinea.miningcadastre.org.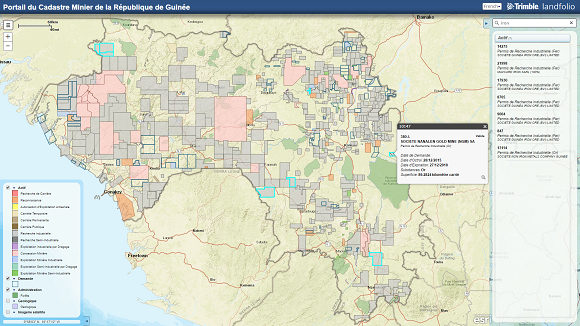 This web portal provides access to up-to-date official cadastral data, and in particular to the cadastral map representing all granted mining titles and authorizations, applications being processed, available areas, and geological information.
This on-line site completes the modernization of the mining cadastre that involved the following:
Revising geodesic points throughout the country for the exact positioning of the country's mining titles;
Updating and validating all mining cadastre data;
Implementing a new computerized mining cadastre system;
Introducing new cadastral procedures that emphasize transparency and efficiency in the processing of applications for mining titles and authorizations;
Revising rates and tariffs for fixed and surface fees, taxes and royalties for the effective treatment of cadastral procedures resulting from the granting, renewal, prorogation, transfer and, or lease agreements relating to mining titles and authorizations;
The revised cadastral procedures, rates and tariffs for fixed and surface fees relating to the various titles and authorizations, the cadastral map, the geological and mineralogical maps, as well as the associated reports are all available online under the "Mining Cadastre" section of the Ministry's web site (mines.gov.gn).
The modernization of the Mining Cadastre for the efficient and transparent management of mining titles and authorizations forms part of the actions carried out by the Ministry with support from the World Bank through the project for Support to Governance in the Mining Sector (PAGSEM).
For any additional information, please contact the Director General of the CPDM (dgcpdm@mines.gov.gn or dgacpdm@mines.gov.gn).
First published on the 28 March 2017 by the Ministry of Mines and Geology. The original article is available at: http://mines.gov.gn/communique-la-republique-de-guinee-met-en-ligne-son-cadastre-minier-modernise/