The Tanzanian online mining cadastre system now allows licence holders to request the total licence fees they owe via SMS.
The addition of SMS extends the range of payment functionality that the Ministry of Energy and Minerals offers to its customers. Users are able to pay for their licensing fees and annual rents using a variety of payment methods, including mobile money (e.g Mpesa), point of sales terminals, NMB bank branches, EFTs and credit cards, and now SMS.
The incoming SMS delivered to the requestor contains the total amount due on the licence as well as a payment reference code which can be used to identify the payment via any available payment channel.
"Through our experience in implementing payment gateways in numerous countries, we've come to understand that localization is critical to making the mining cadastre accessible to both the large-scale and small-scale mining sectors", said Nick Holleman, Product Manager: Portals for Trimble's Land Administration Division.
For more information, please see a news article that appeared in the local Citizen Newspaper : Govt Touts Use of SMS for Efficient Mining Businesses.
Tanzania's online mining cadastre system was developed by Trimble Land Administration and leverages the FlexiCadastre* framework. The portal is accessible at portal.mem.go.tz.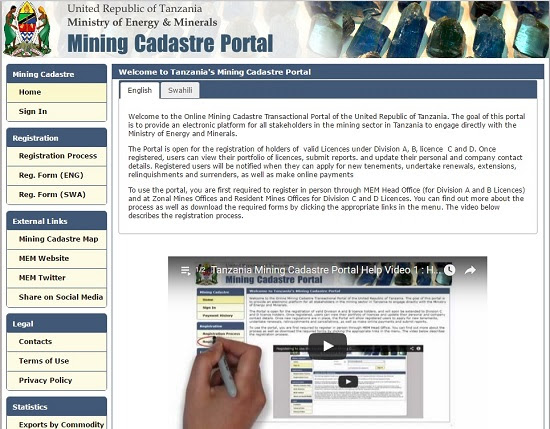 *Trimble acquired Spatial Dimension on September 2, 2015. FlexiCadastre is now part of the Landfolio software suite.