The Minister of Petroleum and Mining in South Sudan, the Hon. Stephen Dhieu Dau Ayik, officially launched South Sudan's new Mining Cadastre System at an external stakeholders workshop held in Juba on 28 April 2015.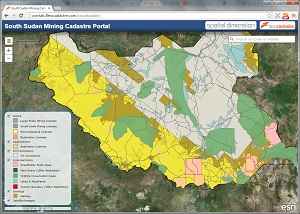 Speaking at the event, Hon. Stephen Dhieu Dau Ayik said, "I would like to take this opportunity to express my sincere appreciations and thanks to our Donors, Partners and Stakeholders; especially the Australian Department of Foreign Affairs and Trade (DFAT) for their continuous support to the Mining Sector; Adam Smith International for developing the legal and regulatory framework and last but not the least my special thanks to Spatial Dimension who worked very hard in a very short time to implement the Mining Cadastre System."
The project included the implementation of FlexiCadastre* to meet the requirements of the Mining Act of 2012 and the Mining Regulations of 2015 as well as the launch of a view only map portal. The map portal is now available at portals.flexicadastre.com/southsudan/.
Spatial Dimension already hosts a number of public portals for government agencies. These portals provide a spatial view into the mining cadastre data and are intended to improve stakeholder communications, reduce corruption and improve transparency.
These portals can be accessed at www.spatialdimension.com/Map-Portals.
*Trimble acquired Spatial Dimension on September 2, 2015. FlexiCadastre is now part of the Landfolio software suite.